17.2 & 17.3 Photos posted here. Check em out!
Here are the individual standings using the Games scoring.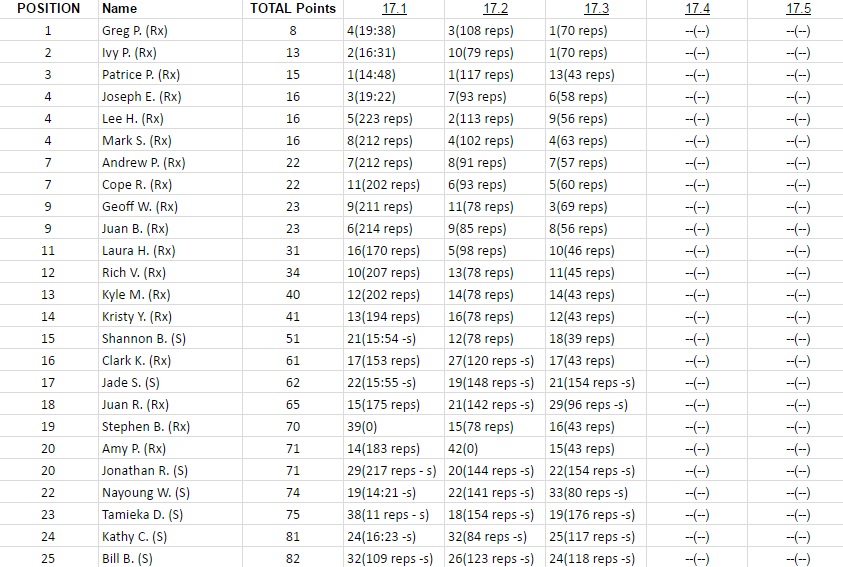 Read – The 17 Commandments of Rowing from Breaking Muscle.
Warmup
Speed Ladder
Hip Mobility
10 Downdog Push-ups
Skill
Rowing Ergometer practice:
Leg drive, pull, return
Getting on and off the machine quickly
Conditioning
"Chimananda"
Class will be split into 2 teams. Start with one member from both teams at each station, rotate to the next exercise on the list every 60 seconds. The workout is over when one team reaches 5000 M on the rowing machine (this should take 25 minutes or less as long as someone is always rowing). There are five stations minimum, but if there are more than 10 people in class we will add more exercises to the rotation. This is an exercise in pacing. You should try to work continuously without resting, so don't burn out on any one movement. That said, push the pace to the best of your ability–no sandbagging!
***PLEASE DO NOT TOUCH THE C2 MONITOR AFTER THE WORKOUT BEGINS OR YOU MIGHT RESET THE METER COUNT***
Stations:
Row
Jump Rope
Burpee Box Jump Over
Airdyne
Push Press
———
IF MORE THAN 10 PEOPLE IN CLASS, ADD THE FOLLOWING EXERCISES FOR EVERY 2 PEOPLE:
Ab Wheel Rollouts (slow and controlled)
10 yd Shuttle Run
Swings
If you need a modification for any of the exercises, the coach will give you a comparable substitution.