Happy Mardi Gras to all of our Nola born athletes!! Be a New Orleanian Wherever You Are. Listen – All on a Mardi Gras Day with Rebirth Brass Band
From the desk of Annie DeCrescente. "After an evening of sipping some beers and eating some fantastic, tasty steaks… I regret to inform you all that my opponent dropped from the pro debut fight in Chattanooga. We have asked several ladies to step up as a replacement (8 to be exact) and all have declined. (One agreed to a fight in April, Amy Coleman, after she recovers from her last injury. Props to that sh*t!) At least someone else wants to get in the cage. Anyone who has bought tickets will be refunded if I am unable to find a replacement in the next two weeks. You all are amazing and thank you for always supporting me."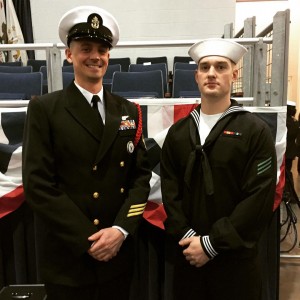 For those of you that know Austin Edwards, he did it! Austin graduated from Navy Basic Training on Friday. He was an old friend of ours that asked us to help him prep to become a Seal. He's well on his way and we couldn't be prouder! Many thanks to our Commander, COL (P) Gaston, for the priceless guidance (and a little favor doing). These young troops are forever grateful.
Open Nutrition Challenge. Sign up. If you consider yourself a CrossFitter, an athlete, a parent, a student, a hard worker determined to make a change in the way you look and feel and PERFORM, you need to take on the challenge. Park your excuses for 40 days, put down the donuts, give your liver a chance to reset and do some good for your body. 
If you think Rich Froning or Sam Briggs or Ben Smith or Katrin Davidsdottir (I'm Team Fraser, personally) or any other high level (and a huge percentage of the 270,000+) Open participant just eats whatever whenever, you're sorely mistaken. They have regimented diets that they are constantly fine tuning. And let me tell you from years of experience both personally (I used to weigh almost 200 pounds) and professionally, it's sooooo much easier with a group of like minded teammates.
Sign up for the Nutrition Talk & Challenge now. 
Warmup
Jump Rope 3 Minutes
Skill
Level 3/4
160 Yd Spider/Crab walk
20 Handstand Pushups (level 3 negatives)
50 Stall Bar Leg Raises
100 Air Squats
Level 2
120 Yd Spider/Crab walk
90 Sec Handstand Hold
50 Stall Bar Leg Raises/Knee Tucks
75 Air Squats
Level 0/1
80 Yd Spider/Crab walk
120 Sec Down Dog Hold
Practice Kicking Up to Handstand
30 Stall Bar Leg Raises/Knee Tucks
50 Air Squats
Conditioning
"Patient Zero"
Levels 3/4
E2MOM 12 Minutes
4 Clean Pulls*
4 Hang Power Cleans
4 Front Squats
4 Burpee Pull-ups
L4 – 135/95, C2B Pull-ups
L3 – 115/75, kipping or jumping pull-ups
*NOT a high pull, no elbow bend– just pull from the floor, shrug and extend up on the toes
Level 2
E2MOM 12 Minutes
Double Kettlebell Complex
5 Swings
5 Cleans
5 Squats
5 Burpees
Levels 0/1
12 Minutes AMRAP
Single Kettlebell Complex
5 Swings R side
5 Cleans R side
5 Squats R side
5 Burpees Repeat on L side