Due to icy conditions, MVMNT will be closed today until 1200. 
**Please note that our standing inclement weather policy is that if Cobb County schools are closed/delayed, the 6/7/9 AM classes will be cancelled, and other class cancellations will be determined on a case by case basis**
Countdown to the Open: 2 Days. Thursday night we all get hear Castro announce 15.1. You can look forward to regular update shows from the Games HQ. The big news here….Sam Briggs switched to OUR region. So…yes, I'm getting tickets to Regionals at the Georgia Dome. Who's coming with me? If you're planning on signing up for the Open but are slacking, get it done now. Help us effectively plan out your Saturday Open throw downs. Register for the Open here.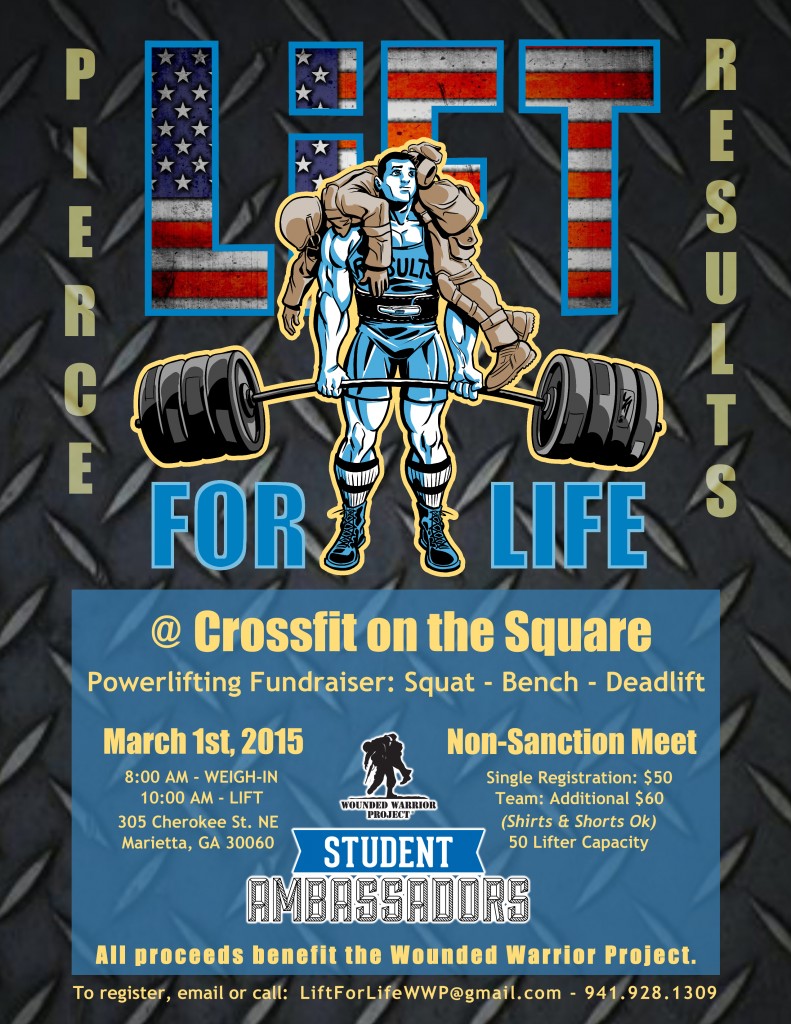 Come support TEAM MVMNT this Sunday!! This thing is kind of a big deal. Huge events like this are how we build stronger relationships inside the gym and a better community outside the gym. Not only do we have a full team competing, there will be seating for 100 people, food, beverage, vendors, Wounded Warriors and Veterans to thank and lifters from all over Atlanta to watch!! Plan to stop by for 2 minutes or 2 hours. Bring your friends, partners, kids, sparkly "GO TEAM" posters and come cheer our lifters on. The louder you scream the more they lift. Proven Scientific Fact….see Amanda Carroll for test results. **We have a small crew of TEAM MVMNT volunteers, but can always use more. If you're interested in joining (you score a free Tshirt), email ivy@crossfitonthesquare.com today. We are looking forward to the biggest event in our gym's history. Join US!!
Can't be there on Sunday, but still want to make a difference? You can make contribution to the Wounded Warrior Project here.
Warmup
Dynamic Athletic Movement
4 Sets
10 Swings
5 Down Dog Push-ups
10 Goblet Squats
5 Pull-ups
Skill
Rowing
3 x 250M technique practice
Rowing Technique for CrossFit and Conditioning – Technique WOD from Barbell Shrugged
 Conditioning
"Swarm Intelligence"
Levels 3/4
10 Minutes AMRAP
3 Hang Power Cleans – Unbroken (L4-155/125, L3-135/95)
6 Toes to Bar
Level 2
E2MOM 10 Minutes
3 Power Cleans
10 V-ups
Levels 0/1
E2MOM 10 Minutes
10 Kettlebell Swings
10 V-ups