8pm Tonight – Come to the gym to watch the live announcement of 17.1 followed by two of our Team Captains battling it out in our Thursday Night Throwdown.
And here are your 2017 Open Teams!!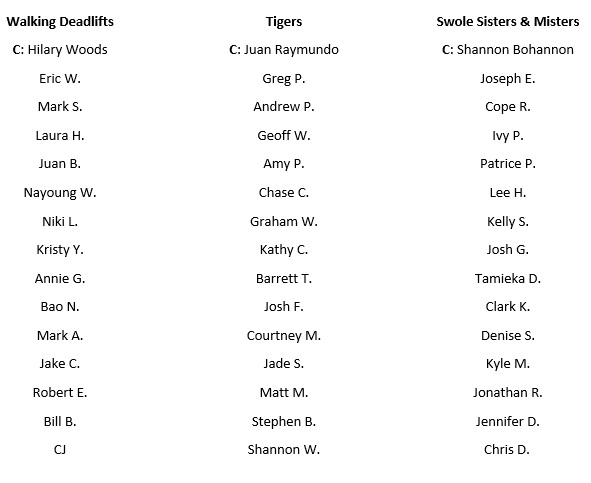 Don't forget – The gym is closed from 9-6 today through Sunday while we host a sport performance workshop.
Schedule This Week:
Thursday, Feb 23: 6 am, 7 pm (Open gym). 17.1 Viewing Party & Throwdown @ 8 pm
Friday, Feb 24: 6 am & 7 pm (Open gym). Open competitors: You may get scored this day or use this day as practice.
Saturday, Feb 25: 9:30 am at Larry Bell Park (Weather permitting. Otherwise cancelled. Intended for non Open competitors.)
Warmup
Dynamic Athletic Movement
Hip Mobility
Downdog Push-ups
Skill
5-10 Minutes
Levels 2-4
Barbell Snatch Progression
L3/4 – once through with empty bar, then add some weight and do the entire progression again
(like a partner complex with the emphasis on QUALITY)
L2 – start with pvc, then move to empty bar
Strength
Levels 3/4
18 Minutes total:
This segment is EVERY TWO MINUTES so you have to work quickly, and you should have a really solid idea of what you're putting on the bar each set BEFORE you get started.
A. 6 Minutes E2MOM (3 sets)
3 Snatch Pull
Increase weight each set.
B. 12 Minutes E2MOM (6 sets)
3 Squat Snatch
Increase weight every set as long as your form stays on point.
**********
Note the difference in the lifts for Level 2 and Levels 3/4. If you have not PASSED the Level 3 test, your workout is written BELOW.
**********
Level 2
18 Minutes (first work set starts at 3:00, last work set is at 15:00)
E3MOM
3 [Snatch + Overhead Squat]
Increase weight only if your form holds.
Levels 0/1
6 Sets
3x R arm [Kettlebell Swing + High Pull + Snatch]
3x L arm
3x Cossack Squats (move side to side in a wide stance, squatting down 3 times on each leg – use a kettlebell or hold onto a gymnastic ring for counterbalance if necessary)
30 sec Hollow Body Hold
Conditioning
Levels 3/4
"Consul"
21-15-9
(9 minute limit)
Handstand Push-ups
Toes to Bar
L4 – Rx
L3 – One Abmat
Level 2
21-15-9
(9 minute limit)
2kb Push Press
Knees to Elbow
L2 – T2B are better if possible
Levels 0/1
9 Minutes AMRAP
5 Push Press
5 Hanging Knee Tucks (1 second hold at the top – count "one-one thousand")
L0/1 – double or single KB push press, do 5 on each side if using one bell