Gymnastics Series starts this week!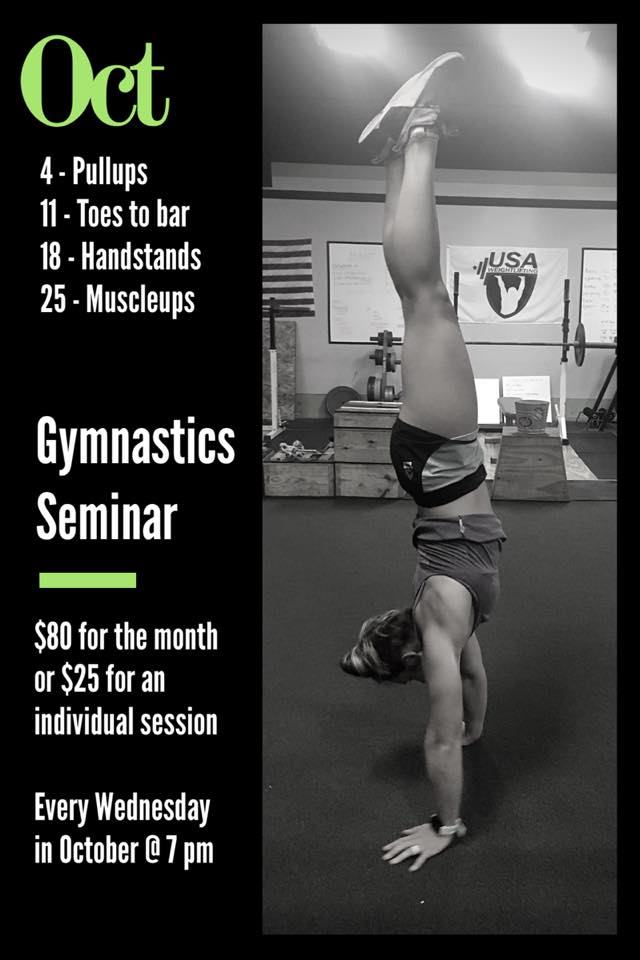 Read – The 4 Dumbest Forms of Cardio by Dr. John Rusin (the good Doctor is very much worth a social media follow btw)
Here's what you need to know…
A little intelligently-planned cardio or metcon is good. How most people go about doing it isn't.
The elliptical machine is too easy. However, it's great for mental zombies who enjoy pretending to exercise.
"Slogging" – slow jogging – is one of the most popular forms of exercise in America. And America is fat and injured. Coincidence?
The stair mill is actually a pretty good machine. Problem is, people crank it up too high, hang on to the rails, and wreck their posture.
Biking is fine, but modern spin classes have devolved into spine crunching, shoulder-pinching train wrecks. (*a random Friday night Vibe Ride fueled by Kendrick Lamar is the exception)
Warmup
Dynamic Athletic Movement
Hip Mobility Series
10 Downdog Push-ups
Level 0/1
3x
10 Swings
1/1 Getup – increase weight each set
Strength
30 minute limit
Levels 3/4
Bench Press
1 x 5 with empty bar
1 x 5 at 30%
1 x 5 at 40%
1 x 5 at 50%
1 x 3 at 65%
1 x 2 at 75%
5 x 2 at 85%
Level 2
Bench Press
1 x 5 with empty bar
1 x 5 at 30%
1 x 5 at 40%
1 x 5 at 50%
1 x 3 at 65%
2 x 2 at 75%
3 x 2 at 85%
Level 0/1
5x
8 Floor Press
8 Box Dips
12 Ring Rows
3/3 Thoracic Bridges (this is how it's done)
Rest
Conditioning
Levels 3/4
10 Minutes E2MOM (5 rounds)
Barbell Snatch Complex
3x
Power Snatch
Overhead Squat
Overhead Lunge R/L
Each round is three times through the complex. Rest for the remainder of the two minutes.
L4 – 135/95
L3 – 115/75
Levels 0-2
10 Minutes AMRAP
Kettlebell Complex
5 Swings
5 Clean and Press
10 Alternating Lunges
Rest 30 seconds
L2 – Double Kettlebells, front rack lunges
L0/1 – Double or Single KB – do 5 reps on each side then 10 alternating goblet lunges