Much Love – To the epic level Saturday crew! It was a HUGE class and you helped keep it controlled and safe and it was a total blast!! #SaturdayisthenewMonday
Thank you to Niki and the growing yoga following. This weekend was no joke! But we're so centered right now. And to everyone getting goals up on the board. Be sure to get a coach's approval before chalking.
Meal Prepping with Ivy – Let's get this thing going. Really going. For some people, meal prep just means another Sunday afternoon and for others…it's more like deer in the headlights. I'm going to offer my tips and tricks and recipes over the coming weeks for everyone doing the WLC (don't forget to log your points) and for anyone else following along at home.
Here's what you need to know about me. I work a regular 9-5 office job and run the gym. I love wine and chocolate and Kiosco and am by no means a perfect eater 365. I'm participating in the Whole Life Challenge. I've done a gazillion nutrition challenges including more Whole30's than I care to count, WLC, Eat To Perform, Slow Carb Diet, All-Pro Diet, general Paleo, and most recently RP (-ish). I've had success on all of them. I've gone from nearly 200 pounds to mid-140's and pretty much walk around these days between 155-165 depending on my goal of the moment (or lack thereof between Halloween and NYE). I'm currently preparing for a Strongman contest (please come watch!) where I want to be as strong as possible weighing in at the top of my weight class. Yes, I want to be strong and fit but I also just want to feel confident in my own skin which hasn't come easy for me. I cook for one and like to keep Monday-Friday cheap and easy but tasty.
I leave the house with breakfast, two lunches, pre-workout snack and water. My weekday goal is start eating dinner by 9:30 which I cook every night. So, for me, Sunday meal prep means making lunches. I also "cook" breakfast everyday and take it with me in the car…..it's boxed egg whites. It's boring and usually cold by the time I eat it in the car but, if I'm eating well, I'm so hungry in the morning I don't care at all.
Tip #1: Don't stress breakfast. But eat it. At least 20-30g of protein. It's purely go-go juice to start your day.
On to lunch. This week, I kept it super simple. Grocery run included skinless chicken thighs (2 packs of four. I had to steal two drums from Sunday night fam dinner to make 5 days), Brussels sprouts (4 giant handfuls) and sweet potatoes (4 huge ones).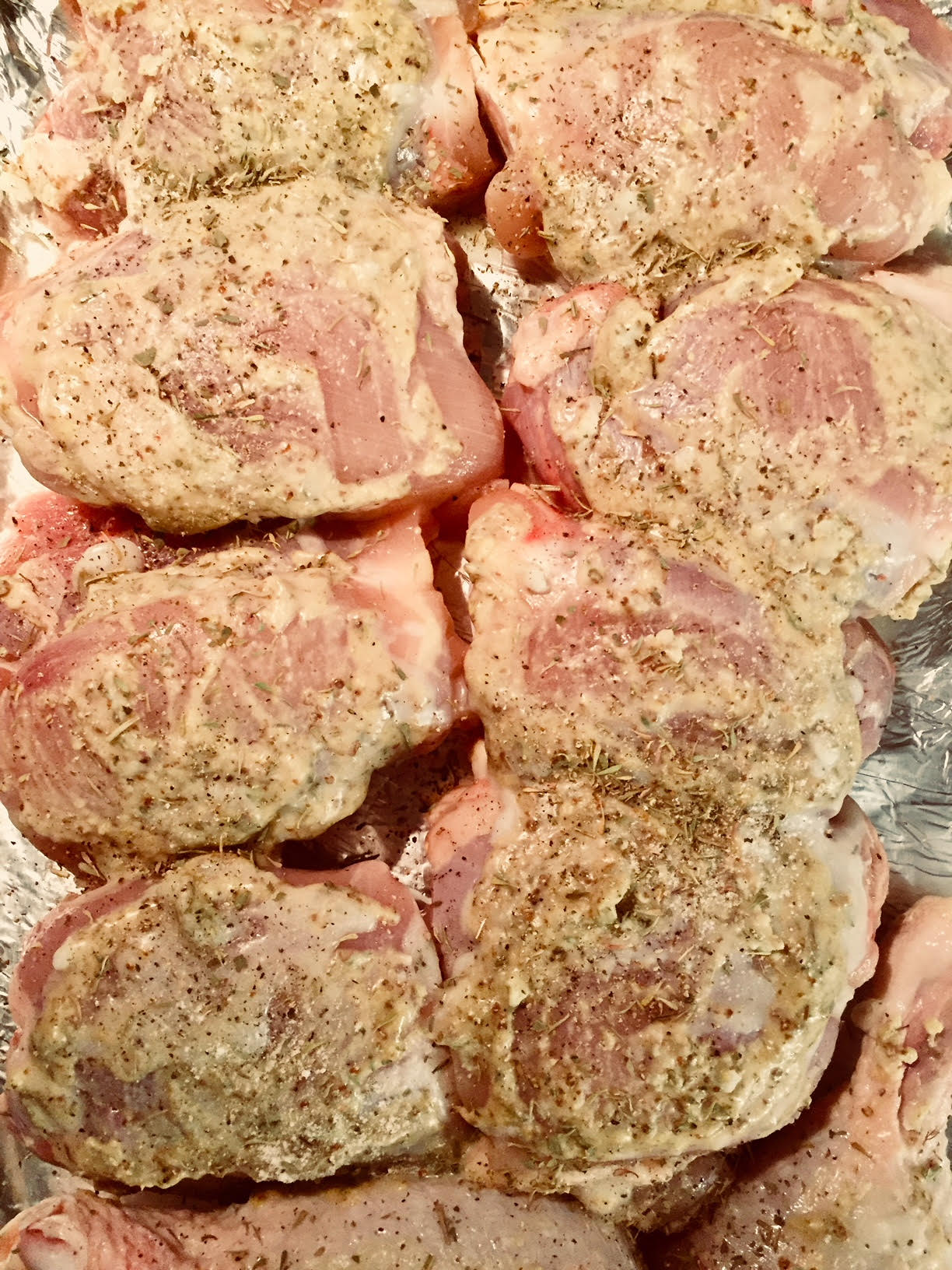 Preheat oven to 450. Preheat baking sheets. Say, "Alexa, play Hall & Oates Radio." Trust me.
Cube sweet pots. Tossed in as little EVOO as possible, cracked black pepper, pink sea salt, cayenne pepper and a ton of cinnamon.
Cut the very edge of sprouts off (basically any brown. Cause I ain't down with food waste) and split in half. Tossed in as little EVOO as possible, S&P, minced garlic.
Mix Dijon & whole grain mustard, oregano, EVOO and S&P in a bowl. Whisk and spread evenly on chicken thighs.
Pull out pre-heated baking sheets. Cover in foil. Spray with coconut oil (or EVOO). Spread sweet pots in single layer. Spread Brussels in single layer facing down. *I'm following a "lite" RP template. If you don't know what I'm talking about, use as much quality oil as your heart desires.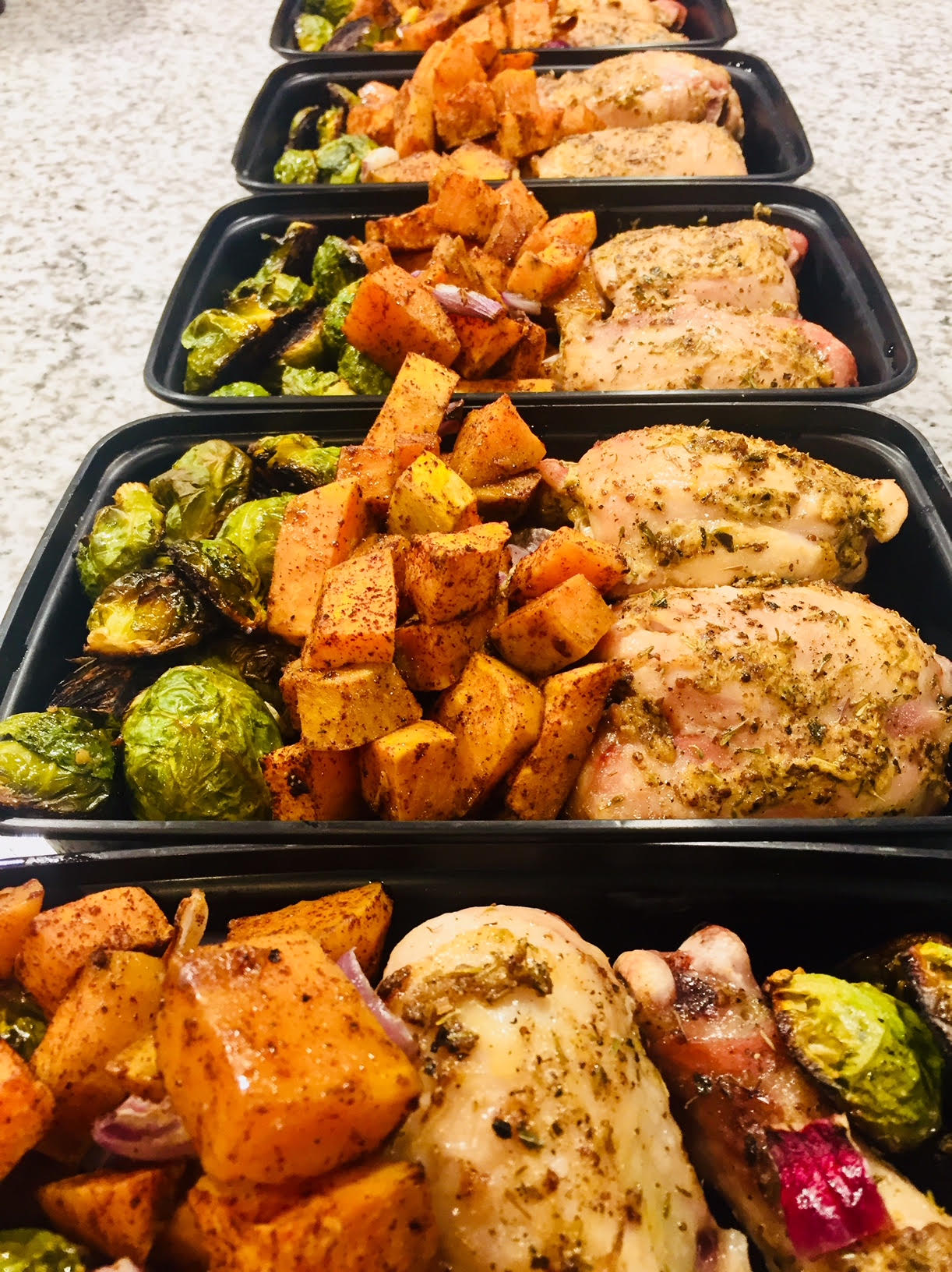 Throw it all in the oven for 40 minutes. Take nap (Cause I can.) Plate in food prep containers. If you don't own them, buy them now. Plenty to choose from. I bought these from Amazon.
Tip #2: The better it looks, the better it tastes. There's something so satisfying about seeing your work laid out dress right dress.
Final cost per meal container: $3.29 (I'll split this into 2 lunch portions per day…so cheap!)
Macros per container: 54g protein/129g carbs/15g fat
Happy eating and no decision making!!
Warmup
Jump Rope 3 Minutes
Hip Mobility
Downdog Push-ups
Skill
5-10 Minutes
Levels 2-4
Barbell Snatch Progression
L3/4 – once through with empty bar, then add some weight and do the entire progression again
(like a partner complex with the emphasis on QUALITY)
L2 – two times through with the bar
L0/1 – once through with the pvc pipe, then 10 Turkish Getups (5 per side, alternating)
Strength
Levels 3/4
18 Minutes total:
This segment is EVERY TWO MINUTES so you have to work quickly, and you should have a really solid idea of what you're putting on the bar each set BEFORE you get started.
A. 6 Minutes E2MOM (3 sets)
3 Snatch Pulls
Work up to a weight heavier than your 1RM Snatch.
B. 12 Minutes E2MOM (6 sets)
3 Power Snatch
Increase weight each set.
**********
Note the difference in the lifts for Level 2 and Levels 3/4. If you have not PASSED the Level 3 test, your workout is written BELOW.
**********
Level 2
18 Minutes E3MOM
3x
Snatch Pull + Hang Power Snatch
Increase weight each set
Levels 0/1
6 Sets
5/5 Double Kettlebell Single Leg Deadlifts
8 Broad Jumps
5 Slow Pushups (3 seconds down, fast up)
30 second Elbow Plank
Conditioning
"Wrong Questions"
10 Minutes AMRAP
Levels 3/4
5 Ring Muscle-ups
15 Front Squats
L4 – 135/95
L3 – 115/75, sub low ring band assisted muscle ups OR bar muscle ups
Level 2
5 Pull-ups
10 Box Dips
15 Goblet Squats
Level 0/1
5 Ring Rows
10 Box Dips
15 Goblet Squats