If you haven't met any of the Westbrooks, consider yourselves introduced. Jessica will be taking over Lyndzey's noon classes along with Friday's at noon, 5 & 6 pm. 
Jessica has always had a passion for sports and fitness. At age six, she started Tae Kwon Do eventually earning a first degree black belt. She played volleyball and was a competitive cheerleader during high school. After high school, she joined a globo gym and ran in her spare time but never really felt challenged. In 2012, she went ahead and tried "this CrossFit thing." It was love at first WOD. Everything from the community to constantly pushing herself to do what she never thought possible turned a gym routine into a passion. After gaining as much knowledge as she could on her own, she decided to get her CF-L1 so she could help others on their fitness journey. Whether it's your first day in the gym or you're an old pro, she is excited to help you along your path. Jessica spent the last several months in teacher training shadowing Mario and Ivy and takes over classes this week. She married to MVMNT member, Chris, and they have one lady killing ginger, Collin. We are very excited to have Jessica on board. Please show her love when she's teaching class.
Losing family on 9/11, being flooded out by Katrina, and then flooded by Sandy on his birthday….this guy knows how to make lemonade. On this same note, I want to pay my respect to all the working parents out there that are balancing careers, family and still making time for yourself and the gym. You help me find energy to get to the gym and grab a bar when I'd rather go home after my 9-5. Every time you walk through the door, I am impressed. Your prioritization of your health around everything else in life is an example to us all.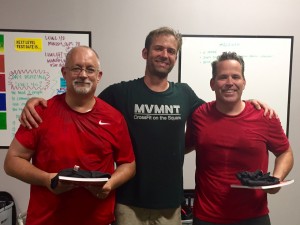 Please welcome Mark (Kristy's dad!) and Graham to the MVMNT community! 
Ready to hit the lanes?? Our reservation is for 6 pm, but come anytime and we'll get you added to a lane. If you're bowling, the cost is $14 to cover your shoes and two hours of bowling. I imagine we'll be there for at least three hours. So, come anytime for a game, just a drink or to watch me make a fool of myself in bowling shoes. You can drop your game cash at the front desk with the instructor or pay Bethany tomorrow when you arrive. Location: AMF Marietta Lanes, 565 Cobb Pkwy S, Marietta, GA 30060. Next door to Uhaul & across the street from KSU Marietta campus aka Southern Poly. 
YOGA: Sunday at 10 am. This week's class is free. 
TRIBE: Max Out Saturday is here. Put the numbers in your head and visualize successful lifts. Everything else goes by the wayside. Sunday you come to yoga because a Tribe called class is cancelled.
Warmup
Dynamic Athletic Movement 
Dynamic 10 Minutes
10 yd Downdog Walk
10 yd Frog Hop
10 yd Lateral Ape Walk
Skill
10 Minutes Pull-up/Crow Practice
L4 – 3-5 unbroken sets of 2/3/5 – 2 strict chest to bar/ 3 strict/ 5 kipping
L3 – kipping technique practice – swing/drive/kip/return
L2 – strict pull-up practice – sub-maximal sets/chin-ups/negatives/partial reps/scap-retractions
L0/1 – same as L2, and ring rows
***between sets of Pull-ups, practice finding your balance in the Crow pose as shown here
Lift
5 x 4
Squat @ 75%
Levels 0/1
5 x 5
Goblet or Double Kettlebell Squat
Conditioning
12 Minute Tabatas
Air Squats
Push-ups 
Air Squats