Big day tomorrow for CFSQ instructors! P Squared (Pellerito + Perkins) are headed to Woodstock for Xs & Ys 2014 (Garage Games) along with Niki who will be laying down judgement. Our newest instructor, Trent, will compete at Venture CrossFit for Partners & Foursomes (Atlanta Affiliate League). And Annie fights Jenna Fox in Hardeeville, SC for a shot at yet another belt! This time it's the Conflict Featherweight title and comes exactly seven days after winning a title fight in Knoxville. BEAST.
If you have to opportunity to get out and support at the venue – Awesome. If not, drop these athletes some love of FB or instagram or give them an in person high five. Time to go to work.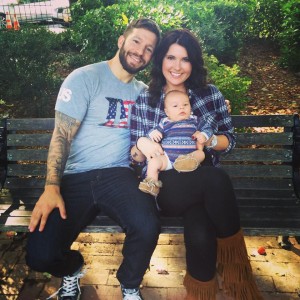 Meet Trent Brumfield. "I fell in love with CrossFit from the very first workout I did a couple of years ago. I knew from that first day that this was something that I could excel at and be passionate about. A few months into training, I realized that I had an opportunity to help people achieve their athletic and fitness goals. Once I felt that my own personal skills were refined enough I got my L1 cert and dove right into coaching. I love interacting and helping people reach their goals; whether it's a first pull or a one rep max with an Olympic lift. CrossFit has changed my life in so many positive ways and nothing makes me feel better than being able to share that gift with someone else." Trent is teaching Monday evenings and Saturday mornings. He is married to Danielle, a yoga instructor at Be Yoga, and just celebrated his son's 3 month birthday. We are pleased to welcome Trent to the CFSQ Family!
Warmup
Jump rope 3 minutes
3x
10 Goblet Squats
5 Down Dog Push-ups
10 Kettlebell Swings
5 Strict Pull-ups
Lift
L4 – Snatch 5 x 2 @ 75%
L3 – Hang snatch
L2 – Snatch practice
L0/1 – PVC snatch practice
Conditioning
L3/4
E2MOM 10 minutes
Snatch pull
Hang snatch
Hang squat snatch
Overhead squat
L0-2
E2MOM
Double KB
5 Swings
5 Clean and push press
5 Squats