Weightlifting Series – Starts tonight! 101 @ 5 & 6 pm and 102 @ 7 pm. Add kilos on kilos on kilos to your lifts or get introduced for the first and everything in between. There are a few last minute spots available. Sign up on MBO or shoot ivy@mvmntgym.com an email.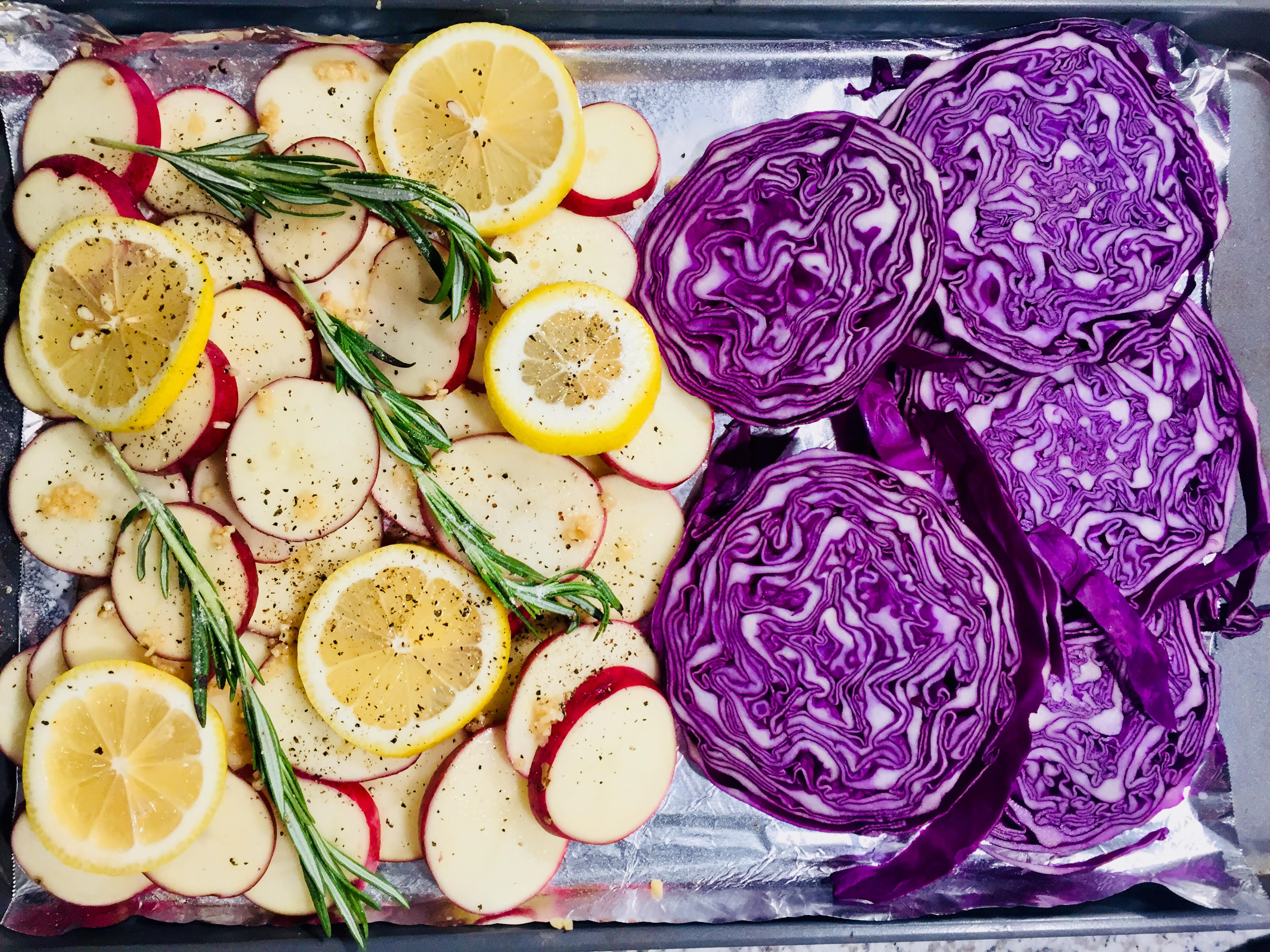 Meal Prep Tuesday – Any day of the week works. This week's recipe is one I've given to several friends who have sent back lots of thumbs up.
I adopted this from Jay's Baking Me Crazy's Paleo Whole30 Spanish Chicken. OG recipe here. My only qualm was the lack of veggies. So, I do what I do and did me….jumped on the veggie gain train.
Shopping List
Red Cabbage
Petite Red Potatoes
Lemon
Rosemary
Basil Chicken Andouille Sausage
Red Bell Pepper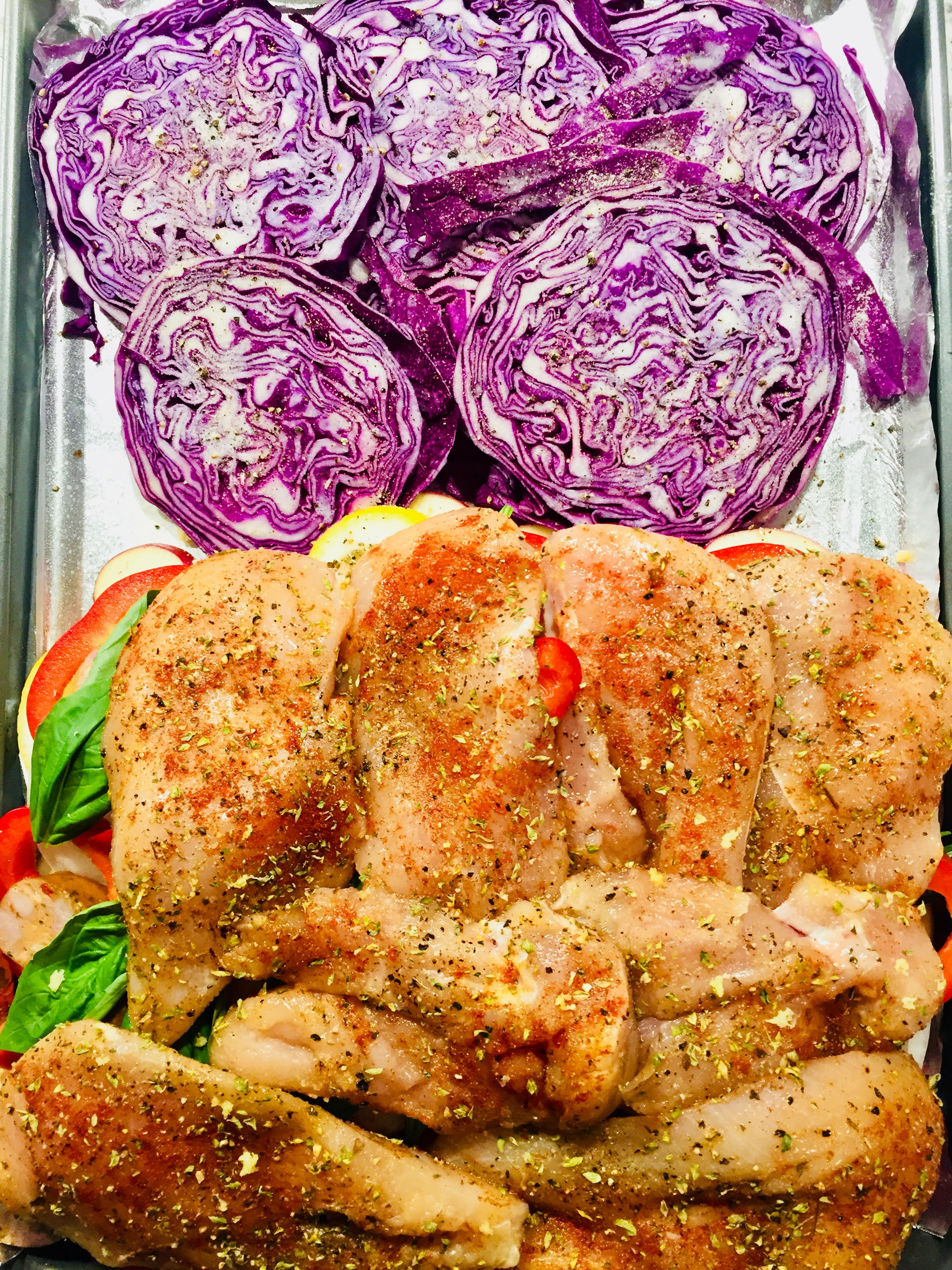 Onion
Chicken Breast
This recipe is insanely easy. Preheat to 400. Slice it all & stack. Bake for 40 minutes or until your chicken hits 160 degrees.
On my baking sheet, I layered the seasoned (I used Grill Mate's Kickin Chicken)& pounded chicken on top of basil on top of red peps on top of sausage on top of onions on top of rosemary and lemon on top of potatoes. I hit the layers with a little S&P all the way through and drizzled EVOO on the taters.
Each layer coats the next layer with moisture and flavor and it's so hard to mess up.
For the cabbage steaks, I just sprayed with fat free EVOO and S&P to taste. The flavor of the cabbage does the rest.
Macros: 48.7g protein/91g carbs/3.6g fat
Price per meal: $4.39
Current BW: 160.3 (160.4 is the cutoff for lightweight!)
North Georgia's Strongest Man & Woman 2018 – If you want to see some seriously STRONG men and women (including some celeb Strongmen) and me throw around hundreds of pounds of kegs and axle logs and iron THIS Saturday, I would be honored to have you in the crowd!! Come for the whole thing or stop by for a few minutes.
Cherokee County Recreation Department Pavilion (Directly behind the rec building)
7545 Main Street
Woodstock, GA 30188
10 am – 4 pm (ish)
Warmup
Jump Rope 3 Minutes
Hip Mobility
10 Downdog Push-ups
Skill
18 Minutes E2MOM (3 Rounds)
The following exercises will each be performed for one minute followed by a minute of rest before moving to the next exercise,
so one complete round is 6 minutes total. For best results alternate with a partner so you have someone to watch the clock for you.
Handstand
Double Unders
Hollow Hang (from pull-up bar)
L4 – 60 second Nose to Wall Handstand, 60 Seconds DUs, 60 seconds Hang from the bar while holding a tight hollow position
L3 – 45-60 second Handstand (nose to wall if possible), Practice stringing multiple DUs together, 60 sec Hollow Hang
L2 – 30-45 second Handstand, 60 sec DU practice, 45 sec Hollow Hold on floor or try hanging
L0/1 – 30-60 second Downdog Hold with feet elevated on box or stall bars, 60 sec Jump Rope practice, 30 sec Hang knee tuck
Strength
Levels 2-4
18 Minutes
E3MOM
3 Back Squats
Work up to ~85% of your 1RM
Levels 0/1
18 Minutes (first work set starts at 3:00, last work set is at 15:00)
E3MOM
5 Double Kettlebell Squats
30 second Reverse Tabletop
Conditioning
"Auslander"
5x AFAP (12 minute limit)
Level 4
20 yd Overhead Walking Lunge (one length of the turf) – 45/35
15 Toes to Bar
Level 3
12 Alternating Overhead Lunges (in place) – 45/35
12 Toes to Bar
Level 2
Same as L3
OR
12 Alternating Farmer Hold Lunges
12 Knees to Elbows
Levels 0/1
12 Alternating Lunges (Goblet if possible)
12 Situps or Hang Knee Tucks
All Levels – Forward Lunges ONLY (no reverse), and please do not drop or set the weights on the turf