Congratulations to all five teams that competed this weekend in the XY Partner Competition at Venture CrossFit: Cope & Maggie, Sarah & Tim, Shannon & Mark, Kristy & Jonathan, and Jason & Bethany!!! Many thanks to everyone that came out to cheer them on! 
Self-Defense – FREE classes continue through Labor Day. Please be sure to sign up for class ahead of time.
Kid's Class – Regular Kids MVMNT starts today. Monthly sessions run for four weeks Monday-Thursday from 3:30 pm-4:30 pm. $100 for unlimited classes. Discounts available for siblings.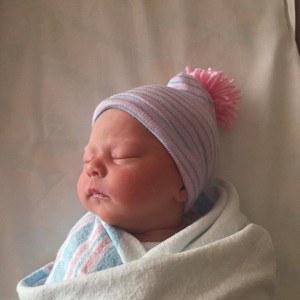 Say hello to Rory Jane Hunt, Molly & Jim's first baby! 
Warmup
Dynamic Athletic Movement
Hip Mobility Series
10 Downdog Push-ups
Alternate with a partner:
A.
3 sets
5 Box Jumps
(Levels 0/1 can sub broad jumps if necessary)
B.
3 sets
5 Jump Squats
(L3/4 – empty bar, L2 – kettlebell, L0/1 – unweighted)
Lift
Levels 2-4
5 x 5
Back Squat (75% OR add 2-5%)
Levels 0/1
5 x 5
Kettlebell Squat
Conditioning
Alternate with a partner:
A.
4 Rounds
8 Front Squats
45 sec max reps Box Jumps
Rest ~60-70 sec rest
(L4 – 115/85, L3 – 95/65, L0-2 – KB goblet squats)
B.
3 Rounds
60 sec Farmer Walk
60 sec rest