While You Were Sleeping: MVMNT Athletes were doing work all over the country this weekend. MVMNT guys ruled the school last week at the Spartan Race. But the LADIES answered back. WAY BACK.
Team PrettyStrong took SIX women to USAPL Raw Nationals and put on a hell of a show. Becci (pictured above) placed third with a 501 squat (a 34lb competition and lifetime PR!), totaled 1212 and qualified for The Arnold. Amanda Carroll hit a 380 lb squat (a 20 lb PR) and 413 dealift (a 13 lb PR). Vanessa hit a 260# BELTLESS squat. Newest PSPL lifter, Sophie, took 1st place in the teen division (she's 18). Steph took 4th place in Junior division and Lisa 6th in Masters. Congratulations, LADIES!!
Our resident female MMA rockstar, Annie DeCrescente, represented in New Orleans.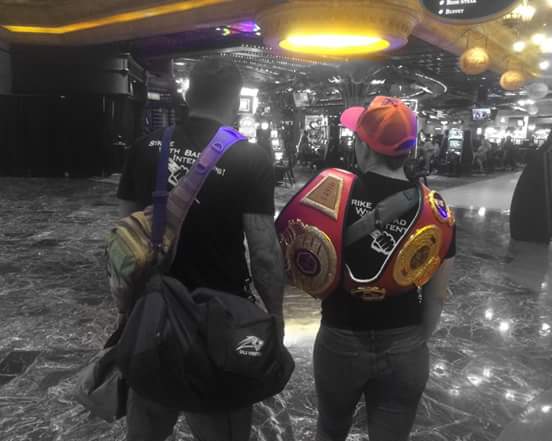 Annie lost this fight. But her loss is way more badass than anything I'll ever win.
Watch the tapout here
. And don't worry, Annie will come back stronger than ever.
This Week: We start a new kettlebell training cycle, the WLC competitors dive head first into the 2nd half of the challenge, and we get extra mobile on Sunday.
WLC Day 31: Get Grateful. Don't forget to post your daily gratitude. If you can't do it in 280 characters, take a cue from Hilary and post your little heart out in our WLC FB group.
Warmup
Dynamic Athletic Movement
Hip Mobility Series
10 Down Dog Pushups
Skill
20 Minutes
Kettlebell Swing
-hip hinge/pvc stick test
-deadlift -pendulum swing
-power swing
Lift
Levels 2-4
3 x 5 (65-70-75%)
Back Squat
Levels 0/1
3 x 10
Double Kettlebell or Goblet Squats
Conditioning
Levels 3/4
75 Wall Balls (20/14)
(L4 – 4:00, L3 – 5:00)
Level 2
75 Wall Balls (6:00)
Levels 0/1
50 Wall Balls (6:00)