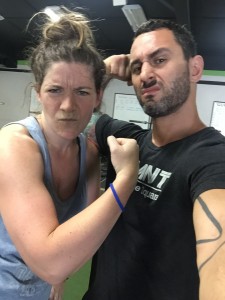 Shout out to Maggie who retested Level 3 yesterday morning terminating it with extreme prejudice!!!
Because in New Orleans…Tuesday. And if you happen to be in Nola tomorrow on the 10th Anniversary of the storm, they're playing at Tipitinas. O Lord, I want to be in that number.
"Whenever you find yourself on the side of the majority, it is time to pause and reflect." – Mark Twain.
And this…
Warmup
Speed Ladder
Alternate with a partner:
A.
3 x 10 Goblet Squats
B.
3 x 5/5 Kettlebell Push Press R/L
Conditioning
"Fran"
21-15-9
Thrusters (95/65)
Pull-ups
L3/4 – as Rx
L2 – Double KB Thrusters
Level 0/1
5 Rounds – single KB
10 Goblet Squats
5 Push Press R/L
10 Ring Rows