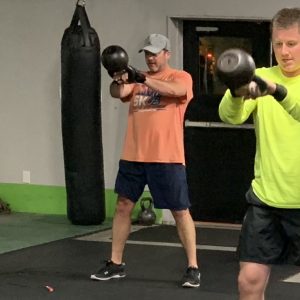 Today we bid a sad farewell to Matt Burke, who is moving away from Marietta for the first time since he went to Auburn. Matt joined MVMNT Gym (CFSQ at that time!) back when we occupied the space next door to Kiosco, when we had to find parking in the Wendy's lot, and dodge rush hour traffic to run 400 yards around the AT&T building. Over these last seven or so years Matt has been a pretty consistent presence dressed in orange and blue, sneaking in during the middle of the day or at the 5/530 time. Despite a recurring shoulder issue and an occasional back twinge, Matt never likes to miss squat or deadlift days. And almost invariably he forgets his phone on the way out the door. So say bye to Matt when you see him today, who knows when he will make it back up here from Old Fourth Ward.
Warmup
0:00 – 10:00
Speed Ladder
10:00 – 20:00
Animal Mobility
20:00 – 30:00
Alternating Turkish Getups – increase weight
30:00 – 39:00
Workout Prep
Conditioning
39:00 – 60:00
"Free Advice"
21 Minutes EMOM (7 rounds)
Start a new exercise at the top of each minute.
Levels 2-4
3/3 Kettlebell Snatches (HEAVY)
12 Box Jumps
24 Double Unders
L4 – 32/24*
L3 – 28/20*
L2 – no rx weight
*Keep in mind these weights are just suggestions. The snatch is a VERY technical exercise, and if you aren't proficient, these loads will be extremely dangerous to attempt. There are only a handful of you who can safely hit those weights. The idea is for you to PRACTICE and IMPROVE your kettlebell skills so that you can handle the big weights one day.
Levels 0/1
5/5 Dumbbell Snatch
10 Vertical Jumps (load up your hips and then jump as high as you can, reaching hands for the ceiling)
30 Seconds Jump Rope/Quick Feet