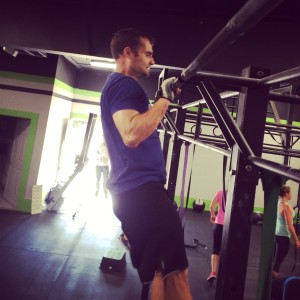 Strength Class is cancelled this Saturday, Feb 22, as our coaches head to a chiropractic seminar. Limited space is available for makeup during the 10:30 Benchmark. Please let us know if you'll be coming at that time.
The Open is almost here and that means three things: grueling workouts, a big party and recovery management. games.crossfit.com will provide the workouts. CFSQ will throw the party. Square Massage is offering a special to assist in your recovery.
First: Register for the Open now.
Second: CFSQ Open Finale & BBQ
March 30, 2014
11:00am – Run the last heats of 14.5. BBQ to follow.
All members, family & friends welcome and encouraged to attend. (Of course, we expect them each weekend leading up to 14.5 with posters and cameras cheering their heads off.)
CFSQ will provide the meat & grills. Members bring the sides and drinks.
Third: Recovery, from the desk Eric Lichtfuss, LMT, Owner of Square Massage
The Open is upon us, and every year it provides us with opportunities to test ourselves, and see just what we are capable of. You've been training all year, and working on your skill or strength gaps. So don't stop pushing to get the most out of yourself and neglect your recovery during the games.
Massage can help aide recovery, alleviate nagging muscular pain, and in turn, improve performance. That's why many collegiate and professional teams have massage therapists on their training staff, and many athletes seek out massage even in excess of what the team offers.
I want to help you perform your best, reach new heights and impress yourself in the Open, so I'm offering a special package for competitors in the CrossFit Games Open.
If you are participating in the Games Open, I am offering a two and a half hour punch card, for the already discounted price of a 2-hour punch card. That's five 30-minute massage sessions: one for each week of the Open, a $225 value, for only $125.
If 30 minutes each week won't be enough time for you, the 5-hour punch cards are always available for a price of $285, but for for Open competitors, the price will be $250.
I want you to purchase this, and we can address performance-limiting tightness and trigger points before each week's WOD, to help you perform your best. Or, we can address the tightness and soreness from a week's WOD, in the days afterwards.
To set up an appointment and purchase your punch card, you can reach me by phone, or email: 404-425-9593 ; eric@squaremassage.com
Warmup
Speed Ladder
3 Sets (10 minutes – if you don't finish all 3 sets during the warmup, make up the rest before you leave)
20 Push-ups
20 Wall Ball Shots
20 Kettlebell Swings
Conditioning
4 Rounds AFAP (25 minute limit)
Run 400yd
25 Air Squats
12 Sandbag Clean