Thrive Wellness Center – Athletes adjusting athletes. Movement = Life
We are thrilled that Thrive Wellness Center and MVMNT Gym have partnered up to offer care plan and membership deals when you join both facilities!
Improve your life through better movement patterns and neurologically based chiropractic. -Dr. Vanessa Gale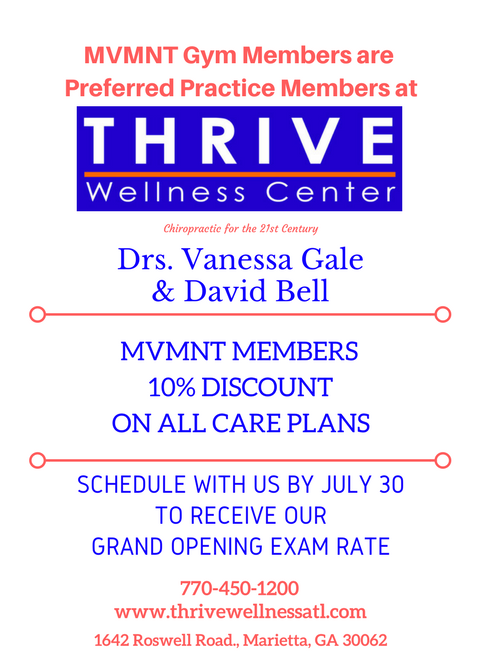 Warmup
Dynamic Athletic Movement
Hip Mobility
10 Downdog Push-ups
Kettlebell Warmup Complex
5x
1 Rep each exercise:
Swing
Clean and Push Press
Snatch
Reverse Getup
Switch hands
The kettlebell should not be set down at all during the 5 rounds. Select a light enough bell that you can get through all 50 reps without putting it down. If you need to rest, do it with the bell locked out overhead, or in the rack position. In the event you set the bell down before completing this complex, you owe a burpee penalty based on your level (L4 – 50, L3 – 40, L2 – 30, L1 – 20, L0 – 10).
Conditioning
The good news is, there is no added weight or hanging from a pull-up bar in this workout. That's all the good news.
This is a Hero workout from the CrossFit main site, which means it is going to be a grind. Remember it's easier if you smile.
"Loredo"
U.S. Army Staff Sergeant Edwardo Loredo, 34, of Houston, Texas, assigned to the 2nd Battalion, 508th Parachute Infantry Regiment, 4th Brigade Combat Team, 82nd Airborne Division, based in Fort Bragg, North Carolina, was killed on June 24, 2010 in Jelewar, Afghanistan, when insurgents attacked his unit with an improvised explosive device. He is survived by his wife, First Sergeant Jennifer Loredo; his daughter, Laura Isabelle; his stepdaughter, Alexis; and his son, Eduardo Enrique.
ALL LEVELS
(30 minute limit)
6 Rounds AFAP
24 Air Squats
24 Push-ups
24 Walking Lunges
400 yd Run